ROYALS
Featuring artists Lisa Green, Tawny Morgan and Gina Tuzzi
Oct 1st – Nov 5
Arts Alive! Opening Reception : Saturday 10/1 6-9pm
M-F 9am-2pm + by appointment
CANVAS + CLAY Gallery is pleased to present ROYALS, a three person show featuring the works of Lisa Green, Tawny Morgan, and Gina Tuzzi. The exhibition includes an abundance of both paintings and ceramic sculptures portraying America's Royals: celebrities, musicians, and popular television and movie characters.
Two artists of Canvas + Clay Studio : Lisa Green and Tawny Morgan have been extremely prolific in our Ceramics Studio these past few years. Both have created a plethora of ceramic busts and statues of all their idols and favorite characters from pop culture. Green says "I paint characters and famous people. I like to do that because it's pretty fun to do. I love that." The gallery presents an opportunity for our community to come and enjoy our artists' renditions of many well known figures of our entertainment culture.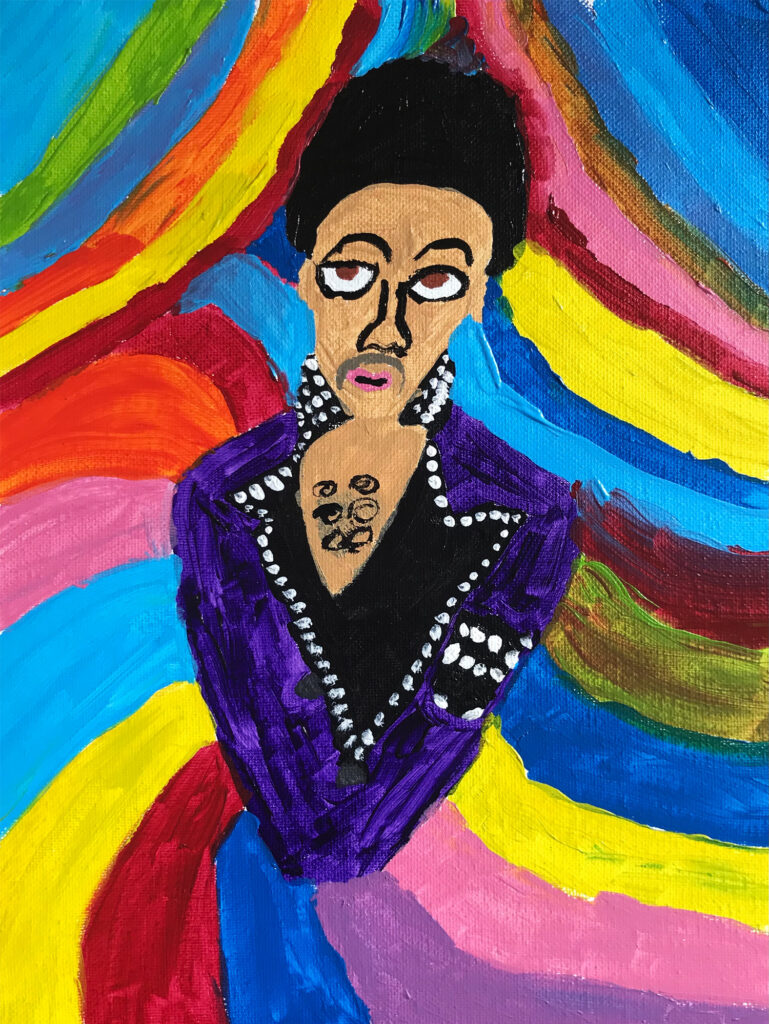 Lisa Green started attending Canvas + Clay Studio in 2012 after graduating from Glen Paul School. She says "I like to make art a lot. It makes me happy. I like to come here and do art. I draw, paint and sculpt. I also make videos. I like to listen to music all the time. I like to watch movies a lot." Green is thrilled about the body of work she has created and about having a show at the gallery. She says "I made all of my sculptures out of clay. I glazed my stuff for my show and it was fired in the kiln. I feel happy and excited for it. I want everyone to check it out."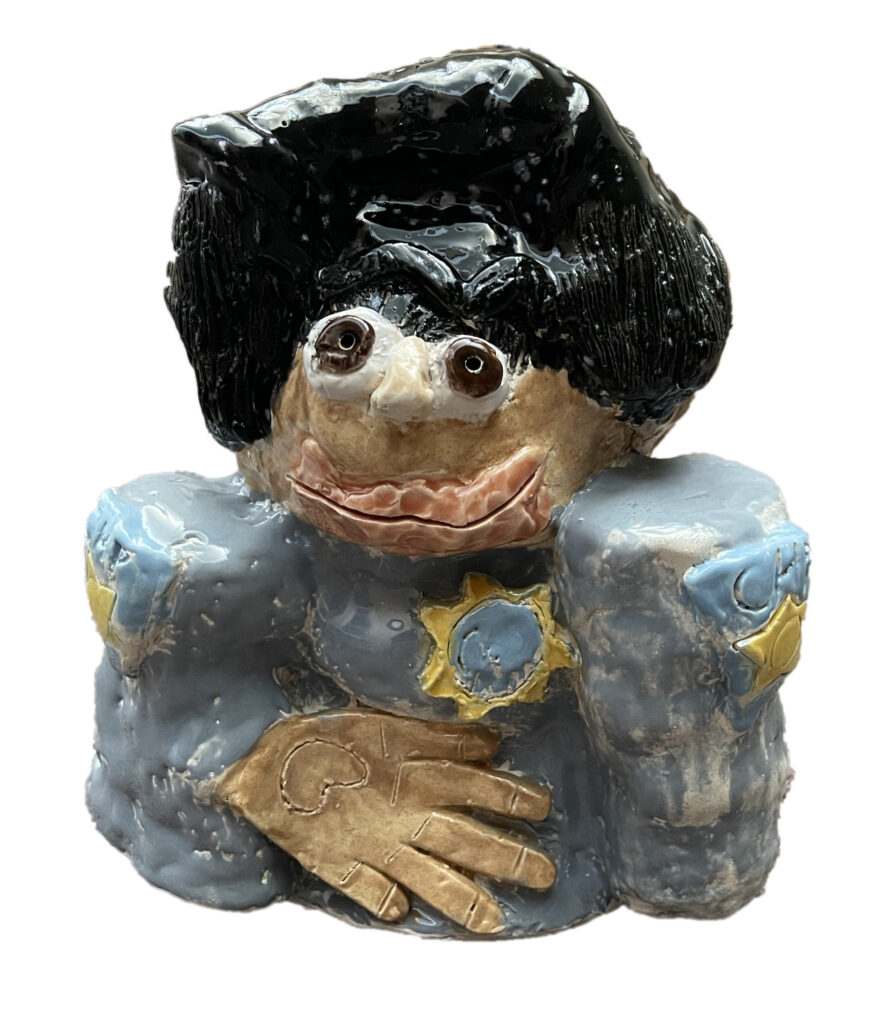 Tawny Morgan has been creating art since she was in Kindergarten. Born and raised here in Humboldt, she attended South Bay, Zane Jr. High, and Glen Paul School. She began creating art at Canvas + Clay Studio in 2014. She says "What I like to do at art is working clay, getting my hands dirty. Art is so much fun." Morgan also enjoys making art at home. "I paint at my kitchen table" she says. "What I like to do on the weekend is paint and and watch movies on YouTube and Amazon Prime Video and go shopping with my sister in law, being with my family." Morgan has created whole sets of ceramic sculptures representing some of her favorite television shows. There's Mr. Rogers with his Neighborhood Trolly and King Friday's Castle, Pamela Anderson and Caroline Holden with their life preservers and Baywatch Tower Station, Officers Jim Reed and Pete Malloy and their Adam-12 cop car.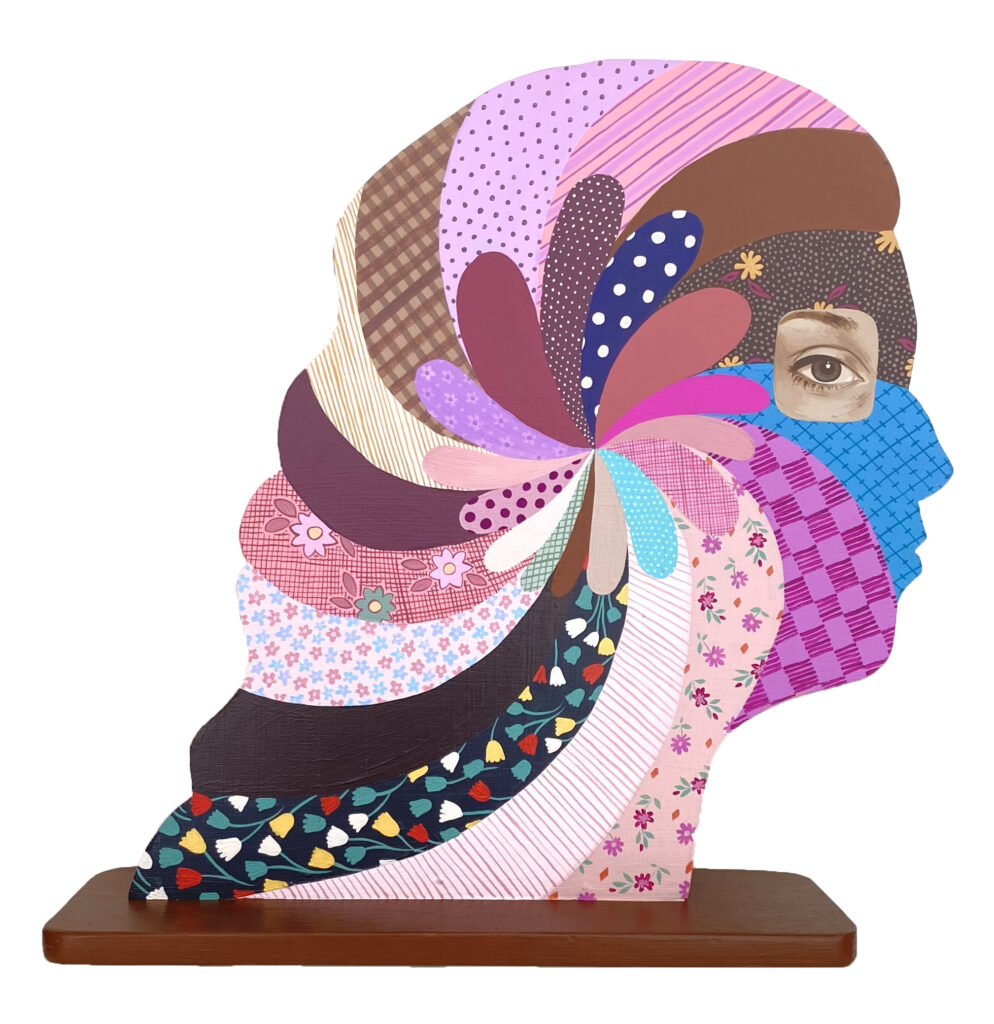 Gina Tuzzi is our guest artist for this exhibition. Tuzzi was born and raised in Santa Cruz, California. She attended Humboldt State University receiving a BA in painting and printmaking and later Mills College where she received a MFA in painting. She now lives in Blue Lake, California and teaches painting and drawing at Cal Poly Humboldt.
This is what Gina Tuzzi had to say about her current body of work:
The origins of my recent work emerged from a deep and urgent desire to find sanctuary. I often feel nourished by reflections of Summer and it's abundance of opportunities to commune with the rivers that cut through the landscape I call home. I consider the natural world to be a temple and a sacred place of worship: one where I can exist in a transcendent and sublime state of joy, free of eco grief, of pandemic anxiety and of any sense of shame.
The visual elements of the work have been primarily harvested from memory. The palette is inspired by the endemic color-scapes of the feral environment that surrounds me. The abstract gestures mimic my corporeal remembrance of navigating this wild landscape. The figures languidly drift through a healing and consecrated atmosphere, much like a water womb or a source for them to return to.
Opening night of ROYALS is Saturday October 1st from 6-9pm, it will remain on display through November Arts Alive! on the 5th. Please be safe and responsible by abiding by Covid rules and guidelines.
CANVAS + CLAY GALLERY
233 F Street, Old Town Eureka
CANVAS + CLAY provides an inclusive studio environment and gallery for artists of varying abilities to foster an authentic art practice and professional growth.