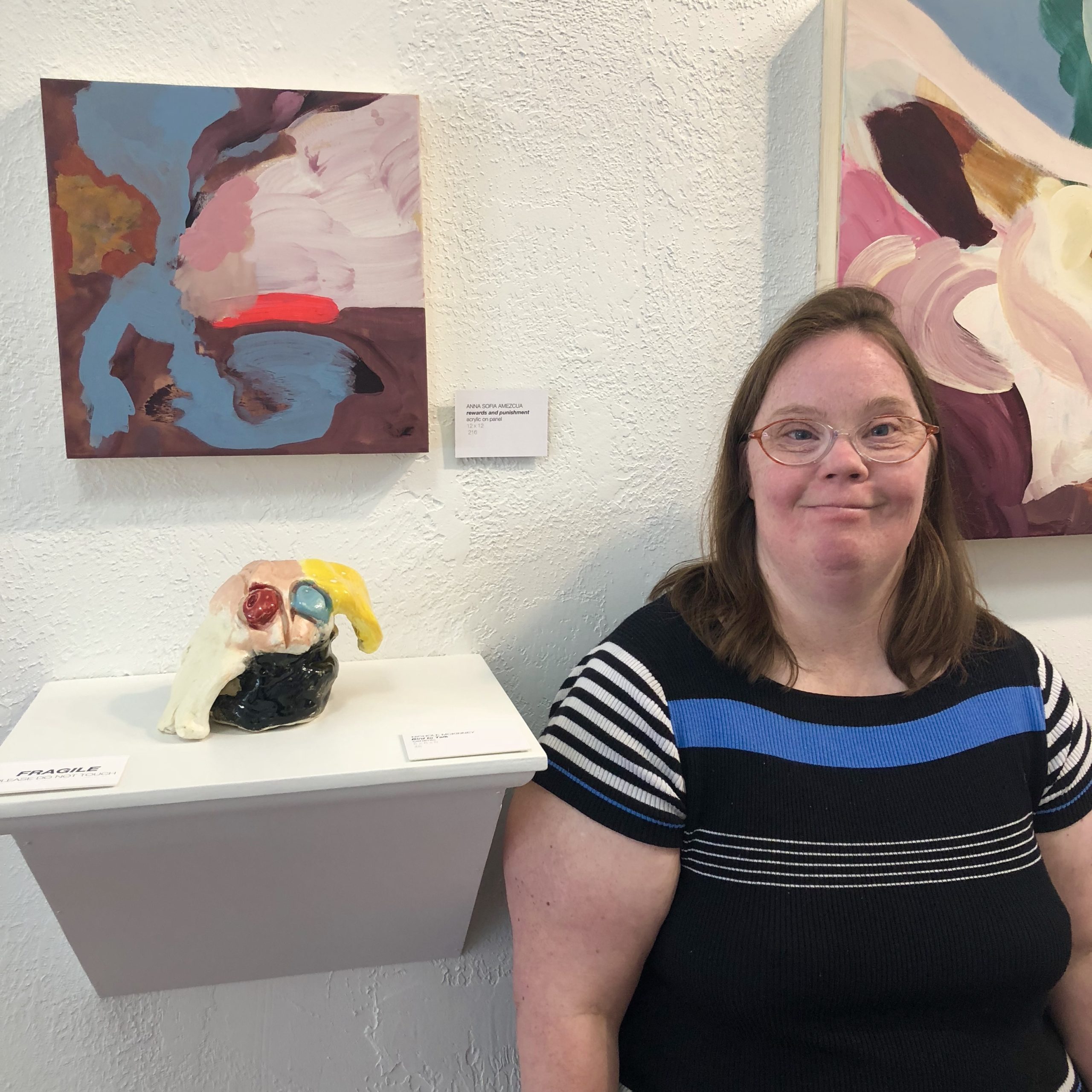 Local artist Nichole McKinney says she became an artist when she began attending The Studio in 2014. It was there she discovered her passion for clay. Her work, though figurative, is first and foremost process driven. When McKinney is working with clay, she is in her element. She is totally relaxed, focused and content. The ritual of working with the clay itself takes precedence above the end result in all ways.
Starting with creating a base sculpture, she then takes to using small pancake like slabs and thick coils and with forceful intention she smooths her sculpture into shape with her thumbs and fingertips. Her movements with the clay are conscious, but the results are somewhat serendipitous. A piece will start in one incarnation and by the end will be completely transformed by the process: leading with improvisation and following with deliberation. Using these intuitive hand building techniques, she "plays" with the clay form until she feels it is finished, sometimes adding inches of thickness to a piece before she deems it ready to set aside for drying.
The process, driven by emotion and the tactile feeling of the clay, takes on a form of expressive therapy:
"When I play with clay, I get the angry out. When you're in stress it makes you feel better. Clay is fun because you can do more details on it. I make the head and then the body. I have to try and shape it in the right spot to make the circle. I make the ears and the legs and the eyes."
In subject, McKinney is drawn mostly to sculpting animals: bunnies, chicks, snakes and cows to name a few. Her favorite are dogs and puppies "because they like to play". This sentiment is echoed McKinney's own relationship with clay as a form of play, as well as the playful nature of the sculptures themselves. Her sculptures are glazed in bright candy colors that are chosen at the artist's whim. In her words: "Sometimes I mix it up." Due to the nature of her process, her works are gestural, chunky, and take on bubble-like forms: Animal Clouds.
Selected Shows:
2018 WHITE OUT, Canvas + Clay Gallery, Eureka CA
2018 Professional Juried Exhibition, Humboldt County Fair, Ferndale CA 2019 Animal Clouds, Canvas + Clay Gallery, Eureka CA
2019 HEEL, Canvas + Clay Gallery, Eureka CA
2019 Holiday Sale, Canvas + Clay Gallery, Eureka CA
Sign Up For Our Mailing List