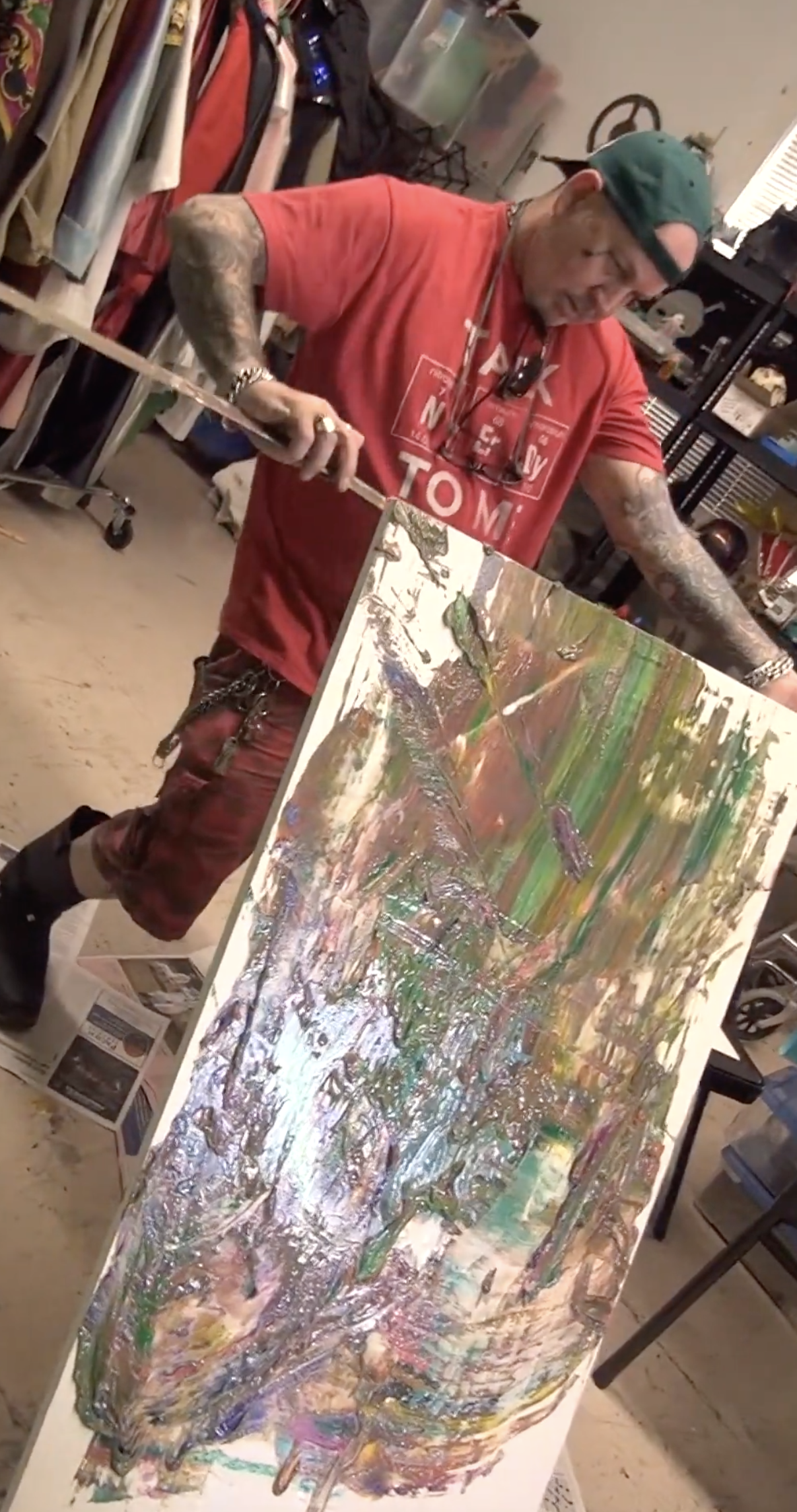 Charles Winans has lived a life some would call extraordinary. A natural story teller, the way he unfurls anecdotes is akin to reading an essay by Thompson, Kerouac or Bukowski. While telling the tale of his life, there is a stranger than fiction aspect to it all. It is simultaneously brilliant, outrageous, funny and sad. His stories are replete with colorful detail and surreal coincidence all peppered with sarcasm and topped off with Winans dry sense of humor. Yet despite his chuckles and good humor, Winans subject matter is quite heavy.
"Depression, suicide, things that are sad, things that are like because you can't be regular like everyone else. Sad things, sad lonely things, loneliness, emptiness, void. Death. Death the fear of death, or death the fear of living. Both is equally horrible if you look at it. I mean a crime scene and a romantic Valentine's Day dinner don't seem that far off to me. (laughs) I've always been left on those wonderful evenings I made to whatever. So yeah it's kinda like, my theme is, kind of worship of idols, idol worship that's not really worth an idol. Or you're just kind of lost stumbling in the snow, everyone's dead, your mom, your dad. You're in a child shelter, kid. Get used to it. (laughs) That's about it."
His paintings take on a frenetic motion, that if the viewer were to watch him paint, would only be described as psychedelic. Winans himself describes the process as "attacking" the canvas.
"I attack it basically. I do like layers and layers and layers. It takes like at least 40 layers to get to one layer. A painting's got to weigh at least 20 pounds…I just like to look at it and see what it is and just smear the paint instead of getting caught up in the technicalities of it…"
From these smears and smudges figures arise, like ghosts. Winans then draws out the details of these specters, adding vacant eye holes and teeth creating skulls and bodies where there was once just paint. The act of painting fulfills a compulsive, deep seeded need:
"They're never done. That's why they have to be taken away from me because I would never finish ever. Because nothing is really done until you're dead. Cause you're the dash, in between when you were born and when you die. You're just a dash. And if you spend your life being a piece of shit dash, well then so what. You know? And if you spend your life doing something creative and changing things, then your dash means something. And that's kind of like art. You're only allowed to dash so many things, just like words. You're only allowed to say so many words before you die. So if you waste a lot of your words arguing and bickering with people you just wasted your life. Basically."
These images of death and fear are brought forth from a life hard lived. Amidst the laughs, sarcasm and humor there is a melancholy in Winans. The artist admits his life has been in turmoil more than once but adds that this is what fuels his art and gives him his strength.
"I'm a survivor…I've lived through a lot of bad things and I haven't turned a cold heart, I'm still a good person. And yeah, the more of the tortured existence the better the artist, right?…Who I am is a consequence of what my art is. My art is just an effect of what I am and what happened to me. I am just kind of basically a series of bad events that made me into the person I am, which is a good person."
As he sums it up: "Life has been beautiful actually."
LISTEN TO A FULL INTERVIEW WITH WINANS BELOW.
LISTEN: Charles Winans candidly discusses inspiration, process and life with staff artist Jen McLaurin.
WATCH: Makes Arts 1: Charles
Sign Up For Our Mailing List